Cast Iron Kettles
Cast iron cookware has been in use for hundreds of years and played a major role in the kitchens of almost every country and civilization since the Roman Empire.
Cast Iron Kettles Stand The Test Of Time!
Cast iron kettles have a centuries long history of reliability and long service life. Today's iron kettles, made with modern technology and advances in metallurgy, are of higher quality than ever before and there is a place for one in every kitchen!
This article is about kettles that some would call cauldrons or pots; it is not about tea kettles or teapots. If you are seeking information on tea kettles or teapots, you will find it elsewhere on our website.
The differences in design between cast iron pots, kettles and cauldrons is often quite small, but in general, cauldrons have three of more legs and are self-standing, kettles are flat-bottomed and usually have a wire handle that allows them to hang from a swing-arm or tripod. There are some cast iron pots that have both legs and a handle that can be used for hanging, but usually they do not have these features and are clearly designed for stove top of oven usage.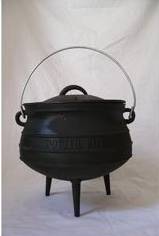 In the hands of an experienced cook, cast iron kettles, pots and pans can yield amazing results and once seasoned, they are capable of cooking a wide range of foods. A large number of prominent chefs prefer to use this cookware because of its unique heat distribution qualities - a factor that is critical when making a number of gourmet dishes. It also does not transfer a "metal taste" to food - an unfortunate side effect of many other types of metal cookware.
Virtually indestructible (they are, after all - made of iron!), cast iron kettles, skillets, pots and other iron cookware are often passed down from one generation to the next. They truly get better with age and I know some folks who are using iron cookware originally purchased by their grandparents decades ago!
Great for cooking dishes and stews that require slow cooking and simmering times, these kettles were a fixture in kitchens of a bygone era in which soups, stews and other home style meals were the rule rather than the exception.
Meals prepared in cast iron kettles have a distinct and pleasurable aroma unlike that produced by any other type of cookware. This is the result of the kettle being "seasoned" - a process done solely to cast iron cookware and which has been done for centuries. Additionally, it is a fact that people with iron deficiencies can benefit from eating food prepared in cast iron cookware because certain trace amounts of iron are transferred to the food.
Many manufacturers offer factory seasoned cast iron cookware, but most off the shelf kettles still require seasoning by the buyer. There are many techniques used to season cast iron kettles - too many to list here. Your new kettle or other piece of iron cookware will come with instructions for seasoning and there are literally thousands of articles on this topic found on the internet.
Cast iron kettles
are produced by most makers of high quality cookware and we recommend that you stick with a major brand when making your purchase. Like all products, quality varies among manufacturers, but remains most stable among well known companies. Some of the more well known and reputable brand name kettlle manufacturers are Le Creuset, Lodge, Descoware, Minuteman, Staub, Griswold and Wagner.
This information was written with the intention that it would help you as you select a cast iron kettle to add to your collection of iron cookware. We recommend that you take your time to study various product reviews before you take the plunge and make your purchase. We wish you many happy years of cooking pleasure with your new cast iron kettle
!
Happy Cooking!
During our research we visited many online vendors and discovered that the best prices are typically found on Amazon
.
Other Cast Iron Products
Cast Iron Skillet Cast Iron Pots Cast Iron Cookware Dutch Ovens
Kettles & Cauldrons Pots & Pans Skillets & Frying Pans Woks & Hibachis
Tea Pots & Tea Kettles Articles Recipes