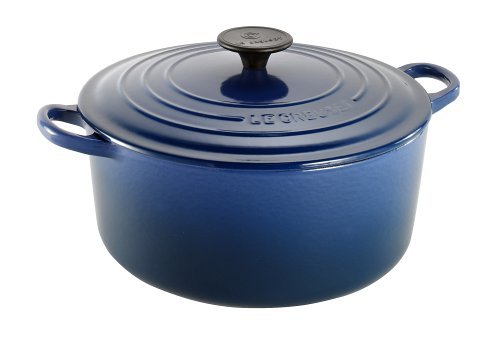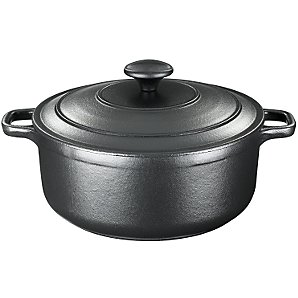 Cast Iron Pots and Pans Stand the Test of Time!
Cast iron cookware has been in use for hundreds of years and played a major role in the kitchens of almost every country and civilization since the Roman Empire.
Cast Iron Pots and Pans - The Choice of Great Cooks!
As traditional kitchen cookware, cast iron pots and pans have been tried and tested by mothers, cooks and chefs all over the world for centuries now. In as early as 1100 A.D., cast iron pots and pans were made by pouring iron into a mold of these kinds of cookware. It was in the 1700s that these pots and pans were produced in mass quantities and in the 1800s when they became very popular for cooking. With the invention of stainless steel, aluminum and Teflon-coated pans in the 1900s, cast iron has somewhat been pushed into the background. But for most food and cooking critics and experts, cast iron cookware beats the rest. Still a culinary sensation, these cooking pans have withstood the test of time, even as they are competing against much fancier pans today.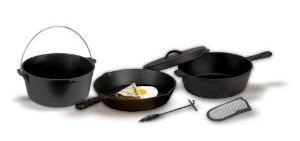 If you're also looking into a healthier diet, these non-stick surface cooking pans are perfect for your cooking needs. Using cast iron pans, you will be able to cook fat-free meals because they do not require any additional oil. Also, food does not slide off as compared to pans made from other materials such as Teflon or stainless cookware. And the best reason to use cast iron cooking pans is because they make cooking so much easier with their smooth and consistent heat-conducting system. Because of its exceptional heat retention and diffusion properties, cast iron pots make for ideal heat conduction, which have made professional chefs dub these as "precision cooking tools," providing even temperature without hotspots for cooking.
These pans are great for grilling steaks and for browning meat. The mass of a cast iron pan holds a constant temperature that is designed best for shallow-frying. Its non-stick surface also helps out in scrambling eggs. It is always an ease and a joy to cook with cast iron cooking pans because of all its unique features. Cast iron pots and pans not only have a lot of cooking benefits, they are also practically beneficial. Not only are these inexpensive, but they would last you a lifetime, or even more. With as low as around less than ten dollars, you can get a decent skillet; and for twenty dollars, you can already get yourself a grill pan, which is definitely lower than copper cookware.
It only takes is a little bit of care and maintenance know-how to make these pans last. Some seasoning and curing does exactly the trick; just fill the holes and pores in the metal with some grease, which will then be cooked in eventually. Well-seasoned cast iron pots and pans
keep the surface smooth and absolutely stick-resistant. You will no longer have to worry about food sticking to the surface of your pans and about the hassles of cleaning and washing it off. You will have no problems when they rust, either, because you can easily clean this off and re-season your pan. With just a little bit of effort and no added cost, it will be like you're cooking with a brand new pan.
During our research we visited many online vendors and discovered that the best prices are typically found on Amazon
.
Lodge LCC3 Cast Iron Combo Cooker, Pre-Seasoned, 3.2-Quart
List Price: $36.97
Sale Price: $31.80





Lodge Combo CookerIt's a deep skillet, a fryer, a Dutch oven, and the lid converts to a shallow skillet or griddle. This versatile piece of cast iron cookware allows the preparation of almost any recipe...
Pre-Seasoned Cast-Iron Skillet, 10.25 inch - Utopia Kitchen
List Price: $39.99
Sale Price: $11.99





Get the most value for your money with Top-Rated Professional Grade Cooking Equipment! Our Pre-Seasoned Cast-Iron Skillet (10.25 Inch) brings luxury cookware to your kitchen. This skillet is seasoned and ready to use...
Stansport Cast Iron 6 Piece Cookware Set
List Price: $58.29
Sale Price: $51.52





High quality cast iron evenly distributes heat even when used over an open fire, heavy cast iron lid keeps food moist while cooking. Includes: 10" fry pan, 6 quart Chicken fryer W/lid, 10" Dutch oven, Dutch oven lid lifter & cast iron hot handle holder...
Other Cast Iron Products
Cast Iron Skillet Cast Iron Kettle Cast Iron Pots Cast Iron Cookware
Dutch Ovens Kettles & Cauldrons Skillets & Frying Pans Woks & Hibachis