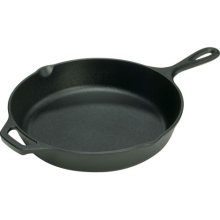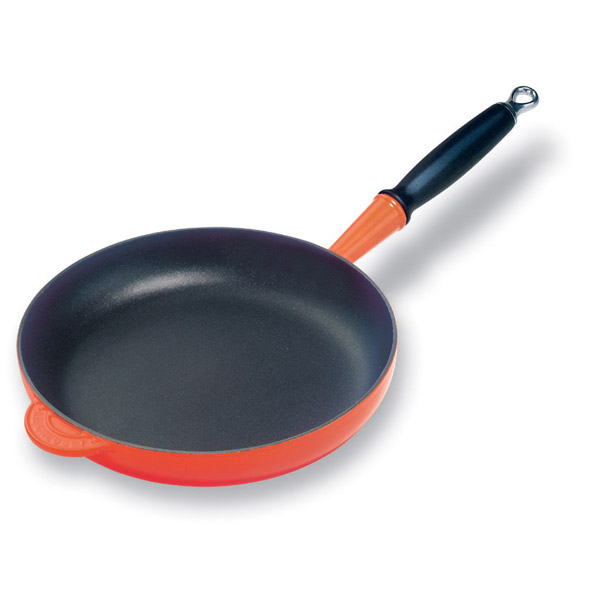 Cast Iron Skillets & Frying Pans
Cast iron cookware has been in use for hundreds of years and played a major role in the kitchens of almost every country and civilization since the Roman Empire.
An Introduction To the Cast Iron Frying Pan
Even before the stainless steel skillet or the copper cooking pan or the Teflon-coated frying pan, there was already the cast iron pan. And every cookout must have its very own cast iron frying pan. Frying pans are typically used for frying, searing or browning. With a diameter of eight to twelve inches, it has relatively low sides going in an outward direction. It has no lid and a long handle. Frying pans made of cast iron are the first of its kind.
This is a highly valued piece of cookware because of its first-rate heat conduction properties. It allows for even and consistent temperature, which is the best way to cook your favorite meals. It can effectively diffuse and retain heat while you are cooking. This unique cooking pan has also been proven to be healthy sources of iron because of the significant amounts they leach on to the food from cast iron cooking.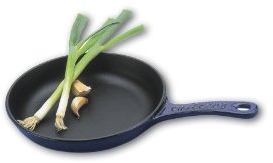 With the use of a cast iron frying pan, not only can you fry with it, but you can also cook different kinds of food with it. Because it can be used on top of the stove and can also withstand pressure and heat in the oven, it can actually be used for searing steak and fillet, baking a cake, making pancakes, grilling cheese sandwiches, and roasting chicken aside from just frying them – these, among others! The versatility of these pans is amazing; one would simply be in awe with the hundreds of recipes you can use with just a single frying pan.
You don't even have to worry about them breaking or rusting because they are very durable and long-lasting. You can easily re-season the pans for re-use, and it is not at all as complicated as one may think. Simply fill in the voids in the metal with grease and it will be cooked right in. Because of this seasoning, these turn into a fat-free nonstick pan, which is easier for cooking and cleaning as well. With its excellent and enduring performance, the cast iron frying pan is perfect for all your culinary needs.
The cast iron frying pan is the most inexpensive out of the other cast iron cookware, with prices as low as ten dollars or even less, which is a fraction of the price of pans made from stainless steel or heavy aluminum. Heavy-duty and affordable, these are the best choice of frying pans. These cast iron frying pans are responsible for delicious-tasting food, with added flavor and supplements from the iron.
These pans are a big investment for your kitchenware. If you're a certified chef, you would know that these are basic pans you would need to use for your different recipes. Or, even if you simply cook for yourself or your family, this pan is definitely worth your money since you can experiment cooking a variety of foods with it. Stick to tradition and be able to still experience something new for your palette with your very own cast iron frying pan.
During our research we visited many online vendors and discovered that the best prices are typically found on Amazon
.
Lodge Boy Scouts of America Pre-Seasoned 12-Inch Skillet
List Price: $38.54
Sale Price: $24.13





Pancakes, eggs, and bacon somehow taste extra hearty when cooked in a heavy cast-iron skillet. Cast iron creates superior heat retention, heats evenly, and loves a campfire, unlike flimsier pans. Fry up a mess of catfish, roast a chicken, or bake an apple crisp in this generous 12-inch pan that features two handles for heavy lifting, and two subtle side lips for pouring...
Pre-Seasoned Cast-Iron Skillet, 10.25 inch - Utopia Kitchen
List Price: $39.99
Sale Price: $11.99





Get the most value for your money with Top-Rated Professional Grade Cooking Equipment! Our Pre-Seasoned Cast-Iron Skillet (10.25 Inch) brings luxury cookware to your kitchen. This skillet is seasoned and ready to use...
Lodge Cast Iron Skillet with Red Silicone Hot Handle Holder, 12-inch
List Price: $42.22
Sale Price: $36.99
Used From: $30.99





The Lodge Cast Iron 12-inch Skillet and Red Silicone Hot Handle Holder is a multi-functional cookware that works wonders with slow-cooking recipes and all your favorite foods. Fry up a mess of catfish, roast a chicken, or bake an apple crisp in this generous 12-inch pan that features two handles for heavy lifting and two subtle side lips for pouring...
DeBuyer Mineral B Element Iron Frypan, Round
List Price: $64.95
Sale Price: $48.30





The most "eco" friendly cookware on Earth. This pan is 100-Percent Natural with 99-Percent pure Iron and a Bee Wax Finish to fight against oxidation while helping season the pan. This pan is excellent for Sealing, Browning, and Grilling...
Cuisinart CI22-24CR Chef's Classic Enameled Cast Iron 10-Inch Round Fry Pan, Cardinal Red
List Price: $80.00
Sale Price: $35.58
Used From: $36.00





Cast iron gets a new look! The Cuisinart Chef's Classic Enameled Cast Iron cookware lines offers a variety of sizes and styles so you can cook any way you like. On the stove in the oven or under the broiler, this durable and attractive cookware evenly retains and distributed heat for results every time...
Lodge LCC3 Cast Iron Combo Cooker, Pre-Seasoned, 3.2-Quart
List Price: $36.97
Sale Price: $31.80





Lodge Combo CookerIt's a deep skillet, a fryer, a Dutch oven, and the lid converts to a shallow skillet or griddle. This versatile piece of cast iron cookware allows the preparation of almost any recipe...
Lodge CRS10 Carbon Steel Skillet, Pre-Seasoned, 10-inch
List Price: $30.71
Sale Price: $24.40
Used From: $19.97





The American-based company Lodge has been fine-tuning its construction of rugged, cast-iron cookware for more than a century. Now lodge has added a new line of seasoned steel skillets. This handy 10-inch seasoned steel skillet is the only pre-seasoned and ready to use out of the box steel pan in the market place right now...
Other Cast Iron Products
Cast Iron Skillet Cast Iron Kettle Cast Iron Pots Cast Iron Cookware
Dutch Ovens Kettles & Cauldrons Pots & Pans Skillets & Frying Pans
Woks & Hibachis Tea Pots & Tea Kettles Articles Recipes