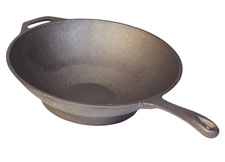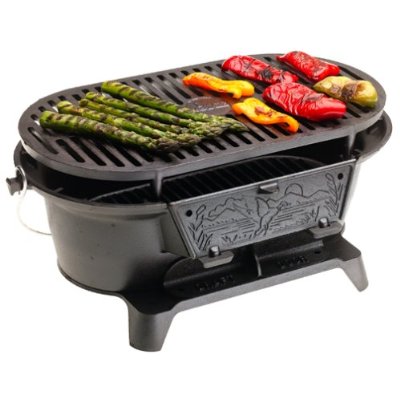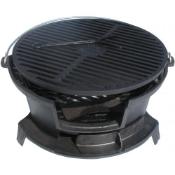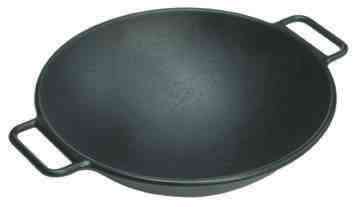 Cast Iron Woks & Hibachis
Cast iron cookware has been in use for hundreds of years and played a major role in the kitchens of almost every country and civilization since the Roman Empire.
The Benefits of Cooking in a Cast Iron Wok
A cast iron wok is a round-bottomed cookware that originated in china. It is vessel like in appearance and is made out of iron, which is responsible for its excellent heat retention and diffusion capabilities. Woks are commonly used for stir frying and since they can withstand very high cooking temperatures they are perfect for the job. If you are looking for cookware that has a deep bottom and is highly versatile and durable, you might want to get yourself a cast iron wok
.
The reason behind the shape of the wok is to make it easier to mix and push food towards the sides of the wok without it spilling and making a mess. If you have experienced cooking stir fried food in a regular pan, you would know how inconvenient it can be to stir fry especially in large amounts.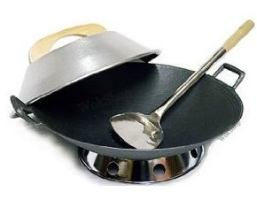 The convenience of a cast iron wok is in its versatility, shape and size. You can cook large amounts of food in them without having to worry about spilling. You can actually do a lot more in a wok than just stir frying; it can also be used for searing and simmering. A cast iron wok is also more traditional than woks made out of other materials. If you use a gas range at home, then this is the best option for you as it can cook food faster in large quantities rather than using several pans at a time just to be able to cook the right amount of food for your guests. These are the perfect cookware to use in parties as you don't need to spend so much time on cooking. If you get one of the bigger sized ones, you can serve food for five up to ten people with just one wok.
You can also make it non-stick, to avoid stir fried rice from sticking at the bottom, by coating it with oil and leaving it in a preheated oven for 20 to 30 minutes. Once the oil turns brown, you would notice that the surface has become slippery, making it the perfect tool for cooking.
If you love cooking, you would definitely fall in love with the functionality of a cast iron wok. It is light and easy to cook in and you won't have to spend so much time cleaning it afterwards, especially if you use the non-stick method of coating it with oil. Even chefs in the best restaurants use this kind of wok because it is both durable and functional. You can never find any alternative to this kind of wok for the same price. Most cookware made out of other materials can cost hundreds of dollars, especially if you are particular about the brand and quality. The advantage of getting a cast iron wok is that you can buy it for a relatively fair price because it does not require very high technology to make it.
Getting yourself a cast iron wok is probably one of the best gifts you can give yourself. Purchasing cookware that is cast in iron is always a practical choice as they can last for years and can be used for almost any dish.
During our research we visited many online vendors and discovered that the best prices are typically found on Amazon
.
LauKingdom Cast Iron Cleaner - XXL 8x8 More Efficient Stainless Steel Chainmail Scrubber
List Price: $69.99
Sale Price: $14.99





LauKingdom Cast Iron Cleaner XL 8x8 Inch Stainless Steel 316 Chainmail Scrubber for Cast Iron Cookware. WORKS LIKE A CHARM ON STAINLESS STEEL COOKWARE ENAMELED CAST IRON, AND MORE.. The 8x8 inch Small Ring Chainmail Scrubber makes fast work of tough cleanup jobs on just about all the pots and pans in the kitchen, including stainless steel, enameled cast iron, hard anodized, copper and glass...
NutriChef Electric Crepe Maker Griddle, 12 inch Nonstick Use also For Pancakes Blintzes Eggs & More Black (PCRM12)
List Price: $52.99
Sale Price: $36.00
Used From: $39.89





The NutriChef Electric Crepe Maker & Griddle provides you with convenient food prep ability. The compact tabletop design is easy to use, allowing you to create delicious desserts like crepes and blintzes -- or use it to whip up a quick breakfast including bacon, eggs & pancakes! The non-stick aluminum cooking surface features a wide 12'' inch diameter cooking surface with a temperature adjustable rotary control knob...
Lodge Seasoned Cast Iron Deep Camp Dutch Oven - 12 Inch / 8 Quart
List Price: $110.53
Sale Price: $62.03
Used From: $74.13





Lodge Logic 8-Quart Cast-Iron Camp Dutch Oven Flip lid to use as griddleThe Lodge portable "camp stove" is the pot that does it all. The flanged lid holds hot coals and inverts for use as a griddle. The integral legs allow the oven to sit perfectly over hot coals...
Lodge Seasoned Cast Iron Skillet - 12 Inch Ergonomic Frying Pan with Assist Handle
List Price: $37.00
Sale Price: $19.99





Pancakes, eggs, and bacon somehow taste extra hearty when cooked in a heavy cast-iron skillet. Cast iron creates superior heat retention, heats evenly, and loves a campfire, unlike flimsier pans. Fry up a mess of catfish, roast a chicken, or bake an apple crisp in this generous 12-inch pan that features two handles for heavy lifting, and two subtle side lips for pouring...
IMUSA USA IMU-80512 Soft Touch Comal/Griddle, 12-Inch, Black
List Price: $26.71
Sale Price: $26.46





IMUSA comals & griddles are perfect for warming tortillas, making crepes, toasting sandwiches, cooking quesadillas, and all your favorite breakfast foods such as pancakes and eggs. The non-stick surface allows you to use less oil and makes clean-up a breeze!
Other Cast Iron Products
Cast Iron Skillet Cast Iron Kettle Cast Iron Pots Cast Iron Cookware
Dutch Ovens Kettles & Cauldrons Pots & Pans Skillets & Frying Pans